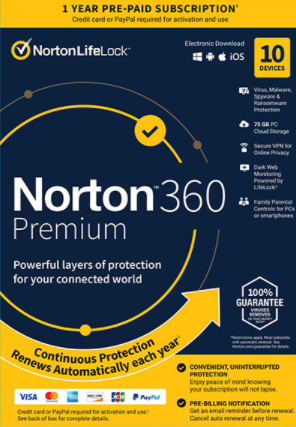 Norton 360 Premium 2021 Antivirus Software 1 year of advanced protection from viruses, malware, and ransomware for 10 devices for $22.99. Amazon is advertising 39% off and looks like it is currently ~$45 on Amazon. Also included the regular Amazon link that includes more details on the scale that has 4.5 stars with ~3k reviews.. This beats the previous Amazon Prime Day deal that went Popular @ $27.99.
Note: The offer is at least available for the N. Virginia – DC – Baltimore location, which anyone can select after navigating to the deal page. Also, offer is through the virtual Amazon Treasure Truck, so has a limited time that it is available.
Treasure Truck Deal Link: https://www.amazon.com/treasuretruck
Regular Amazon Link NOT THE DEAL LINK (for more information and reviews, etc): https://www.amazon.com/NEW-Norton-360-Premium-Monitoring/dp/B07QCVZW81​ [amazon.com]
Premium version includes the following features:
ONGOING PROTECTION – Install protection for up to 10 PCs, Macs, iOS and Android devices – A card with product key code will be mailed to you (select 'Download' option for instant activation code)
REAL-TIME THREAT PROTECTION – Advanced security protects against existing and emerging malware threats, including ransomware and viruses, and it won't slow down your device performance.
SECURE VPN – Browse anonymously and securely with a no-log VPN while using public Wi-Fi. Add bank-grade encryption to help keep your information like passwords and bank details secure and private.
Built-in password manager
Dark web monitoring powered by lifelock we monitor and notify you if we find your personal information on the dark web.
75gb secure pc cloud backup store and help protect important files as a preventative measure to data loss due to hard drive failures, stolen devices and even ransomware.